! Wavelet Group Home Page Created by: Ton Kalker (kalker@eecs.berkeley.edu) Maintained for a long time by: Matt Podolsky (podolsky@eecs.berkeley.edu) Resurrected by: Vivek Goyal 10.27.95 changed all machine references from gabor to www-wavelet !>

	



	(Four iterations of a Daubechies wavelet) 

UC Berkeley Wavelet Group
The UC Berkeley Wavelet Group is now dormant. Its director, Martin Vetterli, is an Adjunct Professor of Electrical Engineering at UC Berkeley, but his primary appointments are at the Swiss Federal Institute of Technology in Lausanne, Switzerland. His research group there is the Audiovisual Communications Laboratory in the School of Computer and Communication Sciences.

Maintenance is limited to this page.
Faces
The UC Berkeley Wavelet Group, as we were back then ...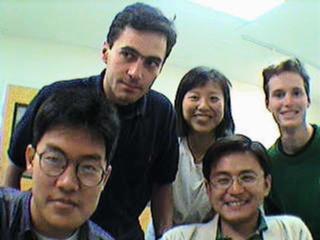 ---
Wavelet Group / 07 Sep 2005